1927 Christmas Night Shootout Marker Dedication

July 20, 2014

1927 Christmas Night Shootout Historic Marker at Cedar Avenue and Third Street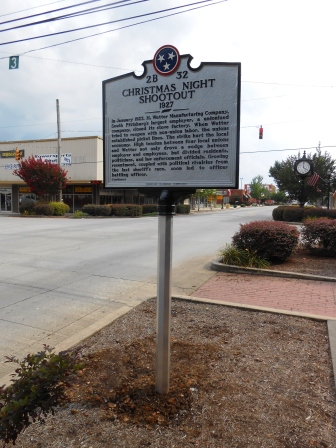 The dedication of the Tennessee Historical Commission marker for the
1927 Christmas night shootout
at South Pittsburg occurred on July 20, 2014 at the Senior Center on Elm Avenue with right at 125 folks in attendance. The event started at 2:00 p.m. CDT and was originally planned as an outdoor event at the site of the shootout at Third Street and Cedar Avenue, but was moved indoors with the threat of rain and thunderstorms in the area.
The dedication was opened with welcoming remarks by Bob Hookey, South Pittsburg Historic Preservation Society Chairman, followed by acknowledgements by fellow SPHPS member Bob Sherrill.

The keynote speaker was Dr. Barbara Haskew, who co-authored with Dr. Robert Jones a lengthy article about the infamous event, which appeared in the Tennessee Historical Quarterly back in 2004. She spoke on the research conducted in writing the story and meeting of many interesting people during of which many were related to someone who either died or was wounded in the affair in 1927.

Following Dr. Haskew, Bob Hookey and Dennis Lambert, SPHPS historian, unveiled the marker for the first time to those in attendance in what turned out to be a four-year ordeal to acquire. The marker, which is the third sponsored by the historic society, was then photographed numerous times with families of victims of the shooting posing behind it. Refreshments were then served to our guest by ladies of the historic society including lemonade, cookies and brownies.

Hookey and Lambert then removed the marker from the building and took to its permanent location on Cedar Avenue where it intersects Third Street and mounted it on the aluminum post they had set earlier in the week.

The
South Pittsburg Heritage Museum
was opened during the ceremony and following and manned by Katherine Brown, another SPHPS member. Many of those in attendance of the event found their way over to museum and enjoyed seeing artifacts from not only the shootout, but all aspects of South Pittsburg history.
The SPHPS wishes to thank all who attended and participated in the event including Dr. Haskew. We would also like to thank all who helped in acquiring the marker including many political figures both local and state. A special thanks goes out to our fellow society members including Carolyn Millhiser, Barbara Clepper and Patsy Sherrill, who helped in making this dedication one of our best attended and most successful events to date.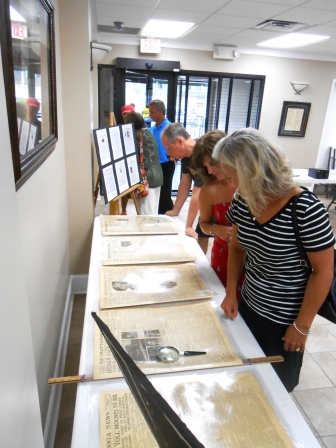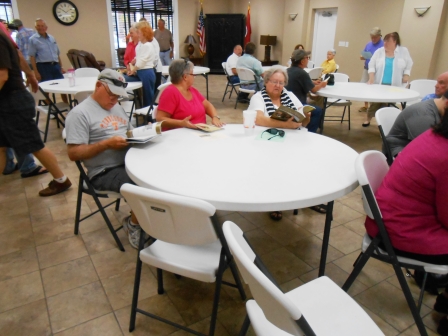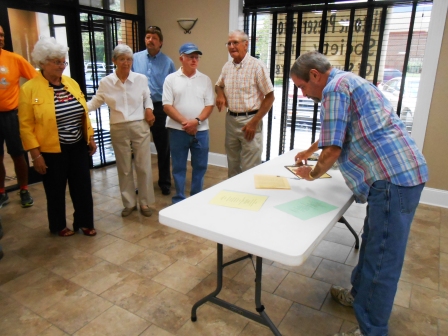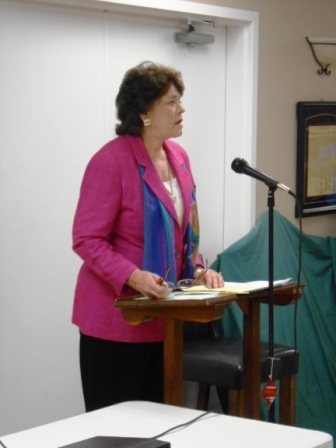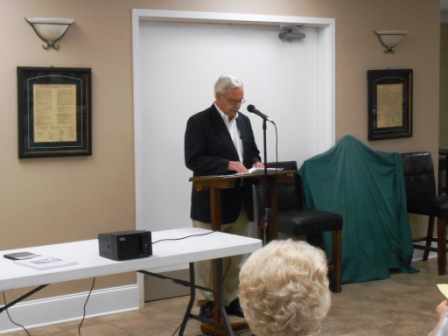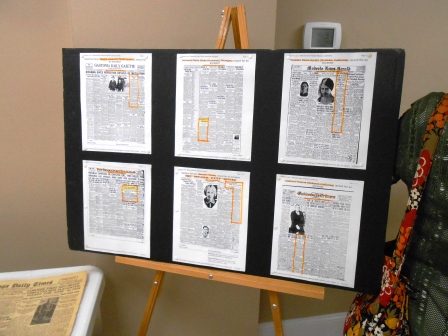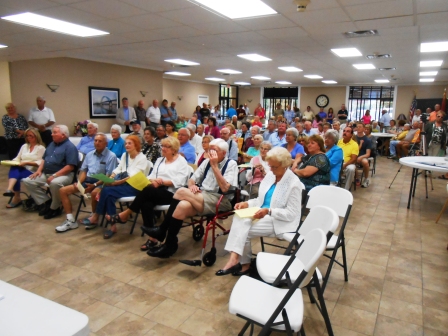 Guests look over historic newspapers that reported the shootout in 1927

Bob Hookey, SPHPS Chairman, welcomes guests to the marker dedication.

Bob Sherrill, SPHPS member, acknowledges distinguished guest.

Barbara Haskew, keynote speaker.

Guest who came to see marker dedicated.

Vintage newspaper copies telling of shootout.

Guest signing in and those waiting to do so.

Guest look at copies of 2004 Tennessee Historical Quarterly with story of shootout by Drs. Barbara Haskew and Robert Jones.