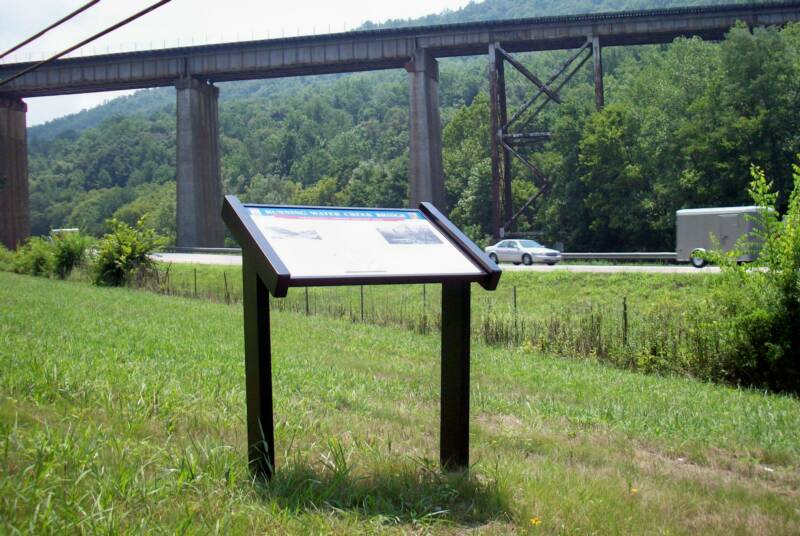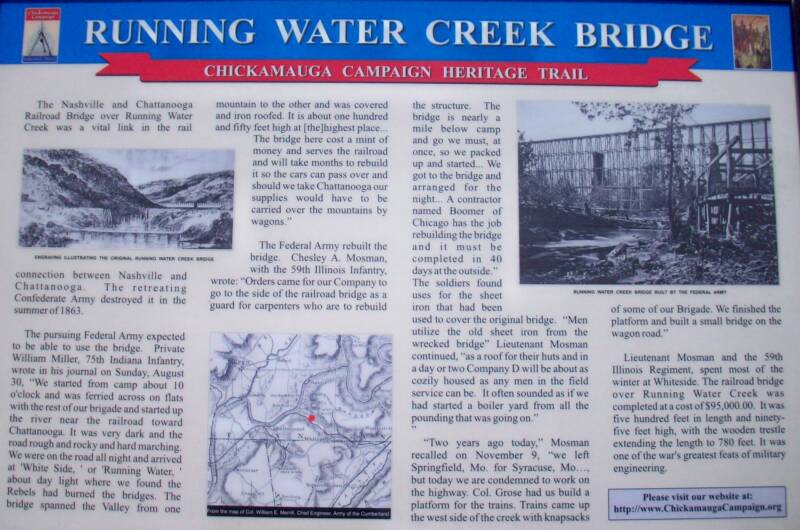 Chickamauga Campaign Heritage Civil War Trail

Historic Markers of Marion County

"Running Water Creek Bridge"

The new interpretive marker for Running Water Creek Bridge was installed earlier this year (2008) near the present-day railroad bridge. The original location of the Nashville & Chattanooga Railroad bridge told about by the sign was about a mile farther up the valley road towards Chattanooga. Some piers for the old bridge can be seen to the left at the original location. The bridge in background of photo below was completed around 1912. For more information on the trail and other markers please visit www.ChickamaugaCampaign.org.
                                                                                                                                                                                 Photograph Courtesy, Dennis Lambert 

The new interpretive marker for the Running Water Creek Bridge shown in the foreground with the modern version of the bridge (CSX Transportation, Inc. railroad bridge) in the background. The bridge pictured was built about a mile below the original location around 1912 by the Nashville, Chattanooga & St. Louis Railway. Interstate 24 can also be seen in background.

                                                                                                                                                          Photograph Courtesy, Dennis Lambert 

Location: Exit off Interstate 24 at Exit 161 Haletown community and turn east on Tennessee Highway 156 for about 0.50 miles where you will turn right onto Tennessee Highway 134 towards the Whiteside community in Marion County, Tennessee. Travel about 2.50 miles along highway 134 and marker located on the right just before the current railroad bridge. Original location and bridge abutments about one mile farther up the road on left just past a large standing concrete (pipe) tile.

Page built August 17, 2008

This page was last updated: August 17, 2008