South Pittsburg Historic Preservation Society, Inc.

Preservation through Determination - Insuring a Place in the Future for Our Heritage!

James Thomas Fitz-Gerald, Jr.

South Pittsburg, Tennessee Native -

Second Man to Break Sound Barrier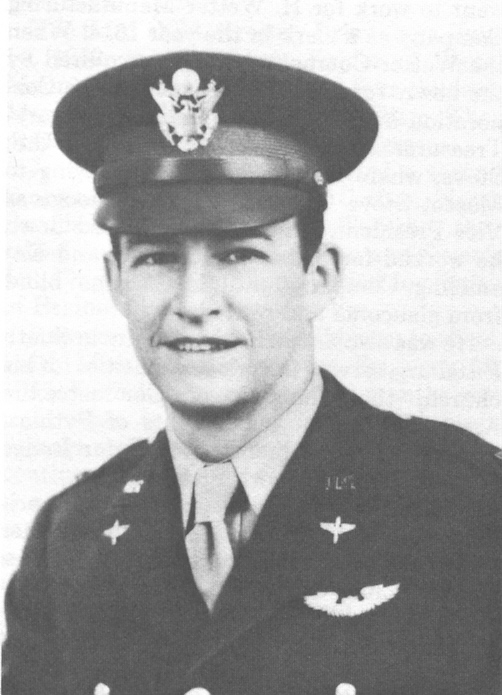 ________________________________________________________________

James Thomas Fitz-Gerald, Jr.

By Fay Fitz-Gerald Ziegler    

    James Thomas Fitz-Gerald, Jr. was born July 13, 1920, the second child and first son of James Thomas and Alice Elizabeth Jones Fitz-Gerald. During his boyhood Jim's main interest were working on model airplanes and scouting. In 1938, he graduated from South Pittsburg High School as Vice-President of his class, and that same year he became a Life Scout, which was of great importance to him. In 1940, while he was a cadet at the United States Military Academy at West Point, his Eagle Scout Award was sent to his Commandant to be presented to him.

    Many happy hours of his young life were spent working on his model airplanes, taking them to the local golf course to test them for defects. He excitedly looked forward to the N.A.A. Model Airplane meets in Nashville, in which he and the members of the "Air Dusters" Club competed with other Tennessee Aviation enthusiasts. Few were the times when he failed to come back with at least one trophy, medal, loving cup, or perhaps a new model kit. Jim loved his model planes, continuing this hobby in his leisure time through all his high school years and even when home on leave after he began his military career.

    As his high school graduation neared, Jim began to concentrate on getting an appointment to a military school, preferably West Point. He went for a six-week training course at Fort Oglethorpe, Georgia, and took a post-graduate course at the high school. He won a fifty-hour flying scholarship for an air school in Chattanooga and leaped at the chance to fly immediately, but determined to continue on his long-range plans, entering West Point's Preparatory School at Fort McPherson, Georgia. He then received his appointment to West Point and was sworn in as a cadet by the Superintendent on July 1, 1940.

     Jim's class began to hear rumors that those who wanted Air Corps after graduation were to substitute most of the next summer furlough for their first flight training and would graduate with wings. This was great news for Jim and no one could have been happier when it became official. Finally came the day at Bentonville, South Carolina, when he flew for the first time. Advanced training was at the newly completed Stewart Field, his class being the first to graduate from "Wings of West Point."

    After fighter and combat training, particularly in the P-47 "Thunderbolt", Jim was ordered overseas in April 1944, where he was assigned to the 78th Fighter Group of the Eighth Air Force in England. On August 8, 1944, during his twenty-eighth combat mission with the group, he was shot down and imprisoned at Stalag Luft III in Moosburg, Germany, where he remained until liberated in April 1945. While he was in prison, Jim's family was notified that he was being awarded the Air Medal and the Purple Heart.

    Jim returned to the U.S. in May and after trying in vain to persuade the officials at the Pentagon to give him duty in the Pacific where he could do more flying, he was assigned to a new area of flying: the jet-propelled aircraft development.

    In June 1946, Jim was selected to take a P-80 "Shooting Star" (an area of testing he had been involved with) to the Birmingham (Alabama) Air Carnival, one of the first big post-war air shows. While there, he was introduced to the President of the TACA Air-Ways of South America, who was in turn introduced to his secretary, Miss Lillian Odette Pankey, of Mobile, Alabama. A few weekends later Jim flew to Mobile and told this pretty redhead that she was the girl he was going to marry. After a year of Dayton-to-Mobile flying, he persuaded her that he was right, and on July 4, 1947, they were married. On May 15th of the next year, their son, James Thomas Fitz-Gerald, III, was born. At the time of their marriage Jim was assigned to the Air Material Command at Wright Field in Dayton, Ohio, but stationed temporarily at Air Tactical School at Tyndal Field in Panama City, Florida, restlessly counting the days until he could return to Wright Field, where research on a new rocket plane, the Bell X-1 was going forward.

July 13, 1920 - September 20, 1948

Captain, James "Jim" Thomas Fitz-Gerald, Jr., a native of South Pittsburg, Tennessee, was the second man to break the sound barrier behind Chuck Yeager. He was also a decorated World War II Veteran. He achieved his historic flight on February 24, 1948.

                      Courtesy, Fay Fitz-Gerald Ziegler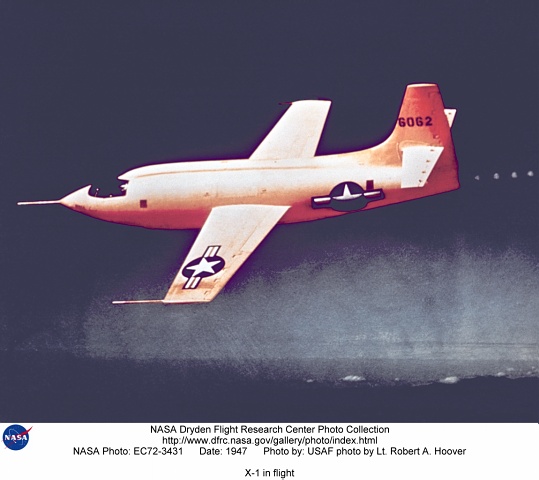 X-1

Captain, James "Jim" Thomas Fitz-Gerald, Jr., a native of South Pittsburg, Tennessee, broke the sound barrier in an X-1 like that pictured above. Captain Fitz-Gerald was the second man to break the sound barrier behind Chuck Yeager when he achieved Mach 1.10 on February 24, 1948. He would fly the X-1 past the sound barrier three more times  before his death reaching Mach 1.15 on May 4, Mach 1.08 on May 25 and Mach 1.1 on April 6, 1948.

                                                             Courtesy, NASA / Dryden Flight Research Center

    Shortly after his return to Wright Field in the fall, he was assigned to that project and transferred to Muroc Base in California. Here, in October 1947, the tiny X-1 made history when it pierced the sonic "wall", flying faster than the speed of sound. Jim described the X-1 as "the most thrilling thing I ever witnessed in flight." Loving his flying as he did, Jim didn't seem to consider it at all unusual that he should be the one to follow Captain Chuck Yeager in flying higher and faster than anyone else in the world. It remained for Yeager to be the one to tell Jim's family that Jim had exceeded the speed of sound, not after several attempts but on his first flight in the X-1. In June 1948, Jim was once again awarded the Air Medal by the Secretary of the Air Symington.

    General Yeager, in his autobiography, Yeager, says this of Jim: "Driving into Edwards via the main gate, a visitor crosses James Fitz-Gerald Boulevard, enroute to the base headquarters. . . He (Jim) was the best takeoff and landing pilot I ever saw. Nobody remembers that Fitz-Gerald was the second pilot to break Mach 1 in the X-1. He was a West Pointer, with a beautiful young wife and new baby, and who was destined for great things as a military pilot. In late 1948, we had flown together to the Cleveland air races. Fitz returned alone, flying a T-33 with 312 gallon tip tanks on his wings. On landing, the wing hit the ground, the airplane cartwheeled and Fitz died of terrible head injuries. How and why such a fabulous pilot was caught that way is hard to understand."

    It was September 9, 1948, that Jim's plane crashed 300 yards north of the Metropolitan Airport in Van Nuys, California. He remained unconscious for eleven days in the hospital and died there on September 20, 1948. Knowing how much Jim loved West Point, it seemed appropriate to bury him there.

    Many letters paying tribute to Jim as a flyer, officer, and as a friend offer quotations suitable to describe him as others saw him. This one from a letter written by President Larry Bell of Bell Aircraft, seems to sum up all of them: "We had not known Jim for so long but we felt we knew him extremely well. He made a tremendous impression on all our people when he visited our plant and spoke to our employees in the afternoon and to our engineers in the evening. I have been associated with aviation for thity-six years and naturally met and know a great many military officers. None have ever made a finer impression on me than Captain Fitz-Gerald. He possessed that rare quality of professional skill and personal modest charm that endeavored him to everyone that knew him. His feat in exceeding the speed of sound in this first flight in the X-1 airplane, to me is one of the most notable accomplishments in aviation and certainly a tribute to his skill and courage. The Air Force, yes, America, has suffered a great loss." And there was this description from a Washington newspaper correspondent who interviewed Jim: "This pleasant-faced lad, with the easy smile, is taking the role of peace-time hero in stride. The flashes of the photographer's bulbs, the grinding of the newsreel cameras and the intricacies of a television appearance have left him as they found him - the guy from South Pittsburg, who just happens to like to fly." This was typical Jim, modest and unassuming and disclaiming all credit for himself.

    Jim's widow, Lillian, and son Jim continue to live in Mobile, Alabama.

Acknowledgement:

The above story was transcribed on August 19, 2005 to this web site with permission from Fay Fitz-Gerald Ziegler, who is a sister of the late Captain Fitz-Gerald. The story was originally printed in: THE STORY OF MARION COUNTY, Its People and Places; pages 247 & 248, which was published in 1990. The South Pittsburg Historic Preservation Society, Inc. would like to express our appreciation to her for allowing Captain Fitz-Gerald's remarkable story to be told here.