The South Pittsburg Historic Preservation Society's Christmas Tour of Homes was Saturday, December 4, 2004 from 1:30 to 4 PM CST.  Three homes and two churches, all built in the 1880s and in the South Pittsburg Residential Historic District, were on the tour. At the Chapel on the Hill the Stitchin' Sisters Quilt Guild exhibited old and new quilts, some of which the guild made especially for the Marion County Children's Fund for local foster children.

The tour had advanced reservations for $10.00 with day of the tour tickets sold at $12.00 after 1:30 PM CST at the Chapel on the Hill, Elm Avenue and 8th Street, South Pittsburg.  Proceeds benefit the Princess Theater reconstruction and the Chapel On the Hill restoration in South Pittsburg. For information or a reservation on the 2005 Christmas Tour of Homes, please telephone 423-837-8327.

Featured on the tour were the following properties: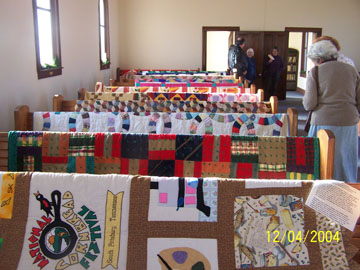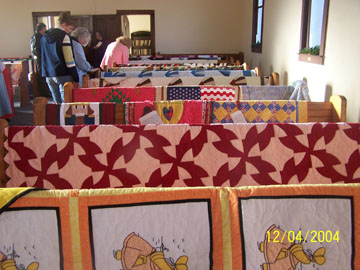 Pictured above are two images showing the Stitchen' Sisters Quilt Guild exhibit at the Chapel on the Hill during the Christmas Tour of Homes on December 4, 2004. Pictures courtesy, Gayle Allen-Grier

Christmas Tour of Homes

2004

The Italianate style brick home (1885) built by the Robert M. Payne, developer of Wonder Cave, and later the home of John T. Raulston, judge at the Scopes Evolution Trial. Stacy and Ryan Mitchem, owners.

The home (1888) George E. Deathridge built eleven years before he established the South Pittsburg Hustler. Jane and Gary Dawkins, owners.

The Queen Anne style residence (1889) William C. Houston built when he purchased the company store from the founders of South Pittsburg. Jane and Gary Pellam, owners.

The Christ Church Episcopal (1883) built in the Victorian Gothic style with interior oak walls and ceiling and stained glass windows.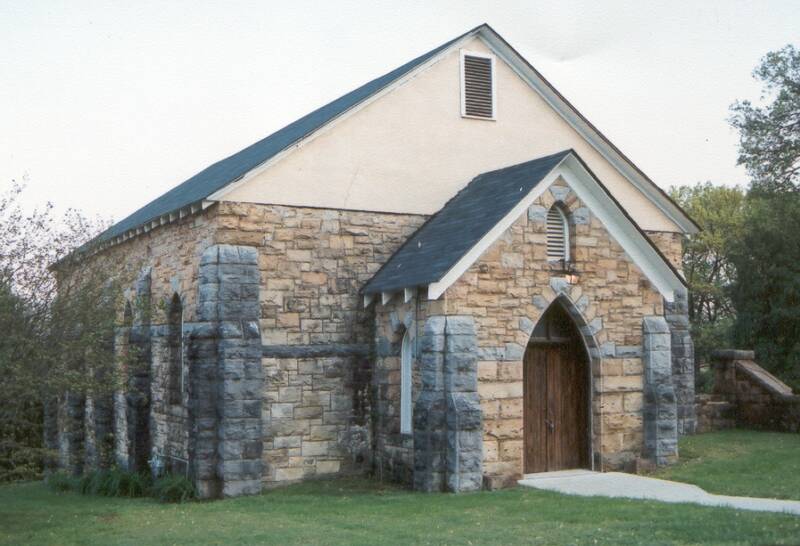 The Chapel on the Hill (1888) showcases the restoration of the stone structure once the church home of Primitive Baptists for 90 years.