South Pittsburg, Tennessee

March 2010, A Good Month for SPHPS!

SPHPS Acquires Major Display for Future Museum & Local Group Makes Donation to SPHPS

H. Wetter Mfg. Co. Gas Range

was manufactured in South Pittsburg, Tennessee, circa. 1927. H. Wetter later became known as U.S. Stove, Co.

South Pittsburg Historic Preservation Society, Inc.

PO Box 175

South Pittsburg, TN

37380

All contributions are tax deductible.

If you have any questions or would like to donate a local historic item for placement in our proposed museum please feel free to contact the Society at 423-837-8327, 423-837-8714 or by email at

[email protected]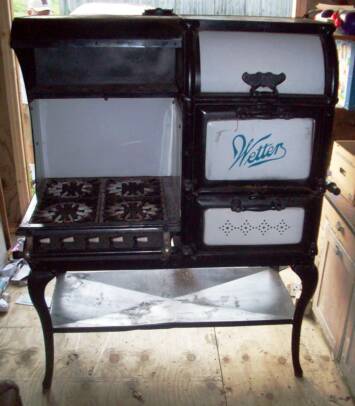 After being used in a Nashville suburb home for over three-quarters of a century, a large gas range is back home where it was manufactured and destined for a future South Pittsburg museum.

  In early March an H. (Henry) Wetter Mfg. Co. gas range dating to about 1927, was offered on the Internet for sale and discovered by Dennis Lambert, SPHPS historian. He called the owner/s and negotiated a fair price. Bob Sherrill, SPHPS chairman, called a special meeting on March 16th where members voted in favor of the acquisition. Bob Hookey, SPHPS vice-chairman, took his pickup truck and drove up to Hermitage, Tennessee the following week with his wife, Sally, and picked up the historic range, which is now in storage awaiting a temporary display location.

    The range, standing roughly 6 feet tall and weighing nearly 300 pounds, was manufactured at the H. Wetter Co. factory in South Pittsburg around 1927, which was the same year as the labor dispute between the local unions and H. Wetter that led to the Christmas shootout that same year killing six law enforcement officers.

    According to the seller, he acquired the range a few years back from a house being remodeled near Vanderbilt University. The second generation owner of the home and stove said, according to the seller, that the range was purchased new and installed in 1927 and that it was used up until the remodeling when he purchased the range.

    The SPHPS is proud to have been able to bring such a rare treasure back home. We are now in the early stages of planning a South Pittsburg museum with the primary goal currently being that of finding a suitable location.  Once the museum is established the Wetter range will be on permanent display for all to see. 

                                                        ****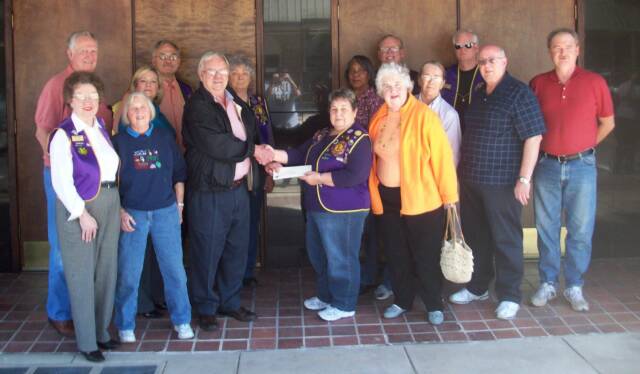 South Pittsburg Lions Club Makes Donation to SPHPS!

The South Pittsburg Lions Club donated $500 to the South Pittsburg Historic Preservation Society on Wednesday, March 31, 2010. The SPHPS would like to thank the Lions Club for its donation. With a proposed museum and other projects in the planning stages, this money will help in achieving our goals.
Pictured in front row left to right are: Suzanne Adcock, Bebe Fuqua, Bob Sherrill, envelope, Elise Hooper, Helen Clay, Bob Hookey and Dennis Lambert. Pictured back row left to right are: Lawrence Roberts, Ann Walker, Michael Werp, Judy Werp, Princess Sign, Gladys Wooten, John Bolton, Carolyn Millhiser, Jerry Don Moss.

This page was last updated: April 3, 2010
Click links above to view other issues of The Society Times